Yayoi Kusama 1929-
"A polka-dot has the form of the sun, which is a symbol of the energy of the whole world and our living life, and also the form of the moon, which is calm. Round, soft, colorful, senseless and unknowing. Polka-dots become movement … Polka dots are a way to infinity."
Raised in Matsumoto, Kusama trained at the Kyoto School of Arts and Crafts in a traditional Japanese painting style called nihonga. Kusama was inspired, however, by American Abstract impressionism. She moved to New York City in 1958 and was a part of the New York avant-garde scene throughout the 1960s, especially in the pop-art movement.
Yayoi Kusama was a leader in the avant-garde movement soon after moving to the U.S. in her twenties and is said to have influenced artists such as Andy Warhol. She is also part of the minimalist and feminist art movements. Kusama is known for her red polka-dot art, a thought-provoking yet whimsical theme she has turned single-handedly into her own signature genre. She is known for her installation art, and she has turned everything from entire rooms to living tree trunks into red polka-dot canvasses. In 2008, one of her works sold at a Christies New York auction for $5.1 million a record for a living female artist at that time. Once you've seen her art, you really cannot forget it. Kusama is candid about her struggle with mental illness and lives in Japan at the Seiwa Hospital in Tokyo from where she commutes to her studio to produce art.
After school we headed to RiNo for lunch at Denver central market. After eating we walked to Visible's interactive art/ad piece called Phonetopia.
It was like going inside of your phone from sliding the door to unlock the entrance to sliding into a pit of DM's, pushing notifications out of the way and climbing over and under ropes to avoid notifications. In the game room Hannah won 3 things in the claw machine, we had tea and water in the airplane lounge and grabbed some free stuff (water bottle, pins, glass cleaner, pop socket) at the end. It was fun, free and I do like Visible's logo (a smiley face.)
This is a pop-up ad, so it goes away on the 24th. We walked around to look at some of the graffiti and that was my Harriet hike for the day.
Back at home I took Jack out for a quick walk, then met James at Adelitas's for dinner. It was tamale Thursday – $2 tamales. It was a TNO, but no one showed up – more tamales for me.
Friday
(Elizabeth Cochran) Nellie Bly 1864-1922
As a young girl Elizabeth often was called "Pinky" because she so frequently wore that color. As she became a teenager she wanted to portray herself as more sophisticated, and so dropped the nickname and changed her surname to "Cochrane". She attended boarding school for one term, but after her father's death in 1870 or 1871, was forced to drop out due to lack of funds. In 1880, Cochrane's mother moved her family to Pittsburgh. A newspaper column entitled "What Girls Are Good For" in the Pittsburgh Dispatch that reported that girls were principally for birthing children and keeping house prompted Elizabeth to write a response under the pseudonym "Lonely Orphan Girl". The editor, George Madden, was impressed with her passion and ran an advertisement asking the author to identify herself. When Cochrane introduced herself to the editor, he offered her the opportunity to write a piece for the newspaper, again under the pseudonym "Lonely Orphan Girl". Her first article for the Dispatch, entitled "The Girl Puzzle", was about how divorce affected women. In it, she argued for reform of divorce laws. Madden was impressed again and offered her a full-time job and the pen name 'Nellie Bly.' Bly wrote eloquently about labor laws, women's rights, and political corruption in Mexico.
Later, while working for The New York World, Bly had herself committed to a mental institution for 10 days to investigate the conditions. Her shocking report on the facility's rotten food, vermin infestation, and horrific abuse of inmates led to public outcry and helped reform the care of the mentally ill.
In 1889, Bly had the newspaper send her on a race around the world inspired by Jules Verne's Around the World in Eighty Days. With a tiny travel bag and one dress, Bly made her way by ship, train, horse, and rickshaw from England to Italy, Egypt to Singapore (where she bought a monkey). When she arrived home on January 25, 1890, Bly set the record for circumnavigating the world in 72 days. She later married and became an inventor, registering several patents under her name.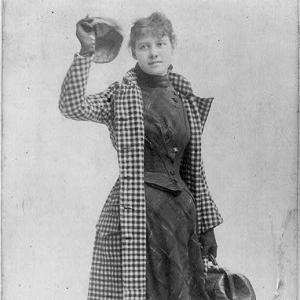 After school I dropped Hannah and Malia off at Target and Grace, Jack and I went to HS skate. Grace got a good 1.5 hours of skating in and I read my book (and Jack slept.)
When we got home I took Jack on our Harriet hike by the Platte river. Day 15 of Harriet hikes. I've walked 27.5 miles in 15 days. Since 11/1 I've had no soda/coffee/caffeine. Besides some almond milk in my cereal, water is my only drink. I've lost 7 lbs. All I intended to do was walk 30 min a day, that challenge was a good kick in the butt! (Of course the knee shots are helping too.)
After James got home we left for Englewood Grand to see Sam at her going away party. She's moving to Alabama to live on a cotton farm near the coast with her flower shop owning boyfriend. It sounds like a great adventure.