Alice Coachman 1923-2014
At the 1948 London Olympics, Alice Coachman won the high jump for the United States, becoming the first black woman to win an Olympic Gold medal. King George VI awarded her medal, and subsequently, President Harry S. Truman congratulated her at a White House ceremony. Coachman was also celebrated in a motorcade that traveled from Atlanta to her hometown of Albany, Georgia.
As a child, Coachman was forbidden from training at athletic fields with white people, which forced her to get creative: she would use ropes and sticks as high jumps, running barefoot. Despite these barriers, she was able to be the first black woman to win an Olympic medal and the first black person to receive an endorsement deal.
"If I had gone to the Games and failed, there wouldn't be anyone to follow in my footsteps. It encouraged the rest of the women to work harder and fight harder," Coachman told The New York Times in 1996. And indeed, she paved the way for African-American athletes like Wilma Rudolph, Evelyn Ashford, Florence Griffith Joyner, and many more.
Dog school.
We tried to go sit in on a court case, but the only open ones said 'No children' and this one looked like it had a case on the docket, but no one showed up. The clerk said to come earlier next time.
My Harriet hike was at the gym because I waited too long and it got dark and cold.
Rosalind Franklin 1920-1958
Rosalind Elsie Franklin was born in London, England. Her family was well-to-do and both sides were very involved in social and public works. Rosalind was extremely intelligent and she knew by the age of 15 that she wanted to be a scientist. Her father actively discouraged her interest since it was very difficult for women to have such a career. However, with her excellent education from St. Paul's Girls' School, one of the few institutions at the time that taught physics and chemistry to girls, Franklin entered Cambridge University in 1938 to study chemistry.
Franklin's next career move took her to Paris. An old friend introduced her to Marcel Mathieu who directed most of the research in France. He was impressed with Franklin's work and offered her a job as a "chercheur" in the Laboratoire Central des Services Chimiques de l'Etat. Here she learned X-ray diffraction techniques from Jacques Mering.
In 1951, With her knowledge, Franklin was to set up and improve the X-ray crystallography unit at King's College. Maurice Wilkins was already using X-ray crystallography to try to solve the DNA problem at King's College. Franklin arrived while Wilkins was away and on his return, Wilkins assumed that she was hired to be his assistant. It was a bad start to a relationship that never got any better.
Working with a student, Raymond Gosling, Franklin was able to get two sets of high-resolution photos of crystallized DNA fibers. She used two different fibers of DNA, one more highly hydrated than the other. From this she deduced the basic dimensions of DNA strands, and that the phosphates were on the outside of what was probably a helical structure.
She presented her data at a lecture in King's College at which James Watson was in attendance. Watson and Crick were at the Cavendish Laboratory and had been working on solving the DNA structure. Franklin did not know Watson and Crick as well as Wilkins did and never truly collaborated with them. It was Wilkins who showed Watson and Crick the X-ray data Franklin obtained. The data confirmed the 3-D structure that Watson and Crick had theorized for DNA. In 1953, both Wilkins and Franklin published papers on their X-ray data in the same Nature issue with Watson and Crick's paper on the structure of DNA.
Franklin left Cambridge in 1953 and went to the Birkbeck lab to work on the structure of tobacco mosaic virus. She published a number of papers on the subject and she actually did a lot of the work while suffering from cancer. She died from cancer in 1958. In 1962, the Nobel Prize in Physiology or Medicine was awarded to James Watson, Francis Crick, and Maurice Wilkins for solving the structure of DNA. The Nobel committee does not give posthumous prizes.
The girl went to a cooking class (pumpkin pasta, salad and homemade ranch dressing) so I took Jack for a Harriet hike along the Cherry creek trail, it was cold.
Elizabeth Blackwell 1821-1910
The first woman in America to receive a medical degree, Elizabeth Blackwell championed the participation of women in the medical profession and ultimately opened her own medical college for women. Born near Bristol, England on February 3, 1821, Blackwell was the third of nine children of Hannah Lane and Samuel Blackwell, a sugar refiner, Quaker, and anti-slavery activist. Blackwell's famous relatives included brother Henry, a well-known abolitionist and women's suffrage supporter who married women's rights activist Lucy Stone; Emily Blackwell, who followed her sister into medicine; and sister-in-law Antoinette Brown Blackwell, the first ordained female minister in a mainstream Protestant denomination.
In 1832, the Blackwell family moved to America, settling in Cincinnati, Ohio. In 1838, Samuel Blackwell died, leaving the family penniless during a national financial crisis. Blackwell was inspired to pursue medicine by a dying friend who said her ordeal would have been better had she had a female physician. Most male physicians trained as apprentices to experienced doctors; there were few medical colleges and none that accepted women, though a few women also apprenticed and became unlicensed physicians.
While teaching, Blackwell boarded with the families of two southern physicians who mentored her. In 1847, she returned to Philadelphia, hoping that Quaker friends could assist her entrance into medical school. Rejected everywhere she applied, she was ultimately admitted to Geneva College in rural New York, however, her acceptance letter was intended as a practical joke.
Blackwell faced discrimination and obstacles in college: professors forced her to sit separately at lectures and often excluded her from labs; local townspeople shunned her as a "bad" woman for defying her gender role. Blackwell eventually earned the respect of professors and classmates, graduating first in her class in 1849. She continued her training at London and Paris hospitals, though doctors there relegated her to midwifery or nursing. She began to emphasize preventative care and personal hygiene, recognizing that male doctors often caused epidemics by failing to wash their hands between patients.
In 1851, Dr. Blackwell returned to New York City, where discrimination against female physicians meant few patients and difficulty practicing in hospitals and clinics. With help from Quaker friends, Blackwell opened a small clinic to treat poor women; in 1857, she opened the New York Infirmary for Women and Children with her sister Dr. Emily Blackwell and colleague Dr. Marie Zakrzewska. Its mission included providing positions for women physicians. During the Civil War, the Blackwell sisters trained nurses for Union hospitals.
In 1868, Blackwell opened a medical college in New York City. A year later, she placed her sister in charge and returned permanently to London, where in 1875, she became a professor of gynecology at the new London School of Medicine for Women. She also helped found the National Health Society and published several books, including an autobiography, Pioneer Work in Opening the Medical Profession to Women (1895).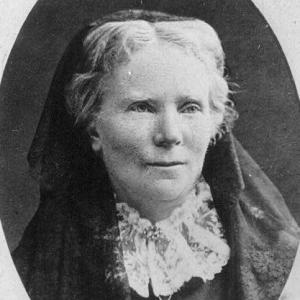 Friday it snowed.
After school I took Jack to the HIgh line canal for a walk.
He was nappy after that.
---