Today's hike was brought to us by Walk2Connect, Denver Healthy Eating and Active Living and Rob the urban forest ranger. It was a bit chilly when we started out at the front of the Botanic Gardens.
We walked up the street and Rob started talking about street trees, specifically ash trees. There is a pest (emerald ash borer) that is eating ash trees and it's currently in Boulder, Longmont and Lyons, so it's headed this way.
They have a program called be a smart ash and cover you ash- http://beasmartash.org – that explains the treatment they are using, what to do if you have an ash tree and the alarming stat – 1 in 6 trees in Denver are ash trees. So, if you do nothing you will have a large percentage of street and park trees that have to be cut down and then replaced with smaller trees, trees that will take 30-50 years to grow back to give you what you now have. He also said that the city of Denver plants, for free, about 1,000 trees a year. If you live in Denver and have space for a tree and will be its caretaker, the city will send over a contractor to put in a tree. We walked on and talked about the various street trees. This graphic has some good info on the amount of trees in each city, not just street trees, and the benefits from them. We stopped at Cheesman park and Rob made note of a few things.
One is that in parks the trees are usually the same type (or a few variations) and the same height (because they were all planted when the park was made.) Cheesman recently went from potable water use to recycled water use and Rob noted that some of the conifers are doing poorly on the recycled water because the levels of certain minerals are getting higher. One tree was fading fast and might have to come down and this is a tree that is about 100 years old. You can't plant a 100 year old tree, so the benefit that the tree gave you won't be back for a while. Anyway, we walked to the pavilion at Cheesman park and Chris gave us some background on it. I knew it had been a cemetery, one of Denver's first. Well, the city was growing and wanted to use that land for a park, they bought it from Congress (who had taken it in a treaty with the Indians) for $1.25 an acre. Part of the area was named Congress park, because they had owned it, part became the Botanic Gardens and part became Cheesman (named after a Denver pioneer Walter Cheesman, the pavillion fund was donated by his family.) But first, Denver had to clear out the cemetery. The Catholics were buried in the garden area, they were moved to Mt. Calvary, some were moved to Fairmount or Riverside, the Jewish bodies were moved to a Jewish cemetery and then to Riverside, the segregated Chinese bodies (mining and railroad workers) were shipped back to China. This left about 5,000 bodies, some were criminals, vagrants or first generation Denverites who had no family to move them. The city hired a guy to move the bodies, paying him by the coffin. That turned out to be a mistake as he started chopping up bodies and stuffing them into child size caskets, leaving bones and things from the coffins lying around for others to come and take (why someone would want to go grab a bone or a watch or whatever was falling out of the caskets is beyond me.) The newspaper found out about it, wrote a scathing article, the city fired the guy but they never hired anyone else. So, every time someone plants a tree, digs up a tree, lays down irrigation or breaks ground on a new parking garage, they usually find a few bodies. If you walk on the grass there are humps and divets in the grass, those are where the graves are. It's a little weird. The trees have grown so much (and the buildings have grown so tall) that you can only see part of the mountains from the spot at the front of the pavillions, but 100+ years ago it was a different sight.
Here is a picture of the park from the front with raised platform, small trees and reflecting pool.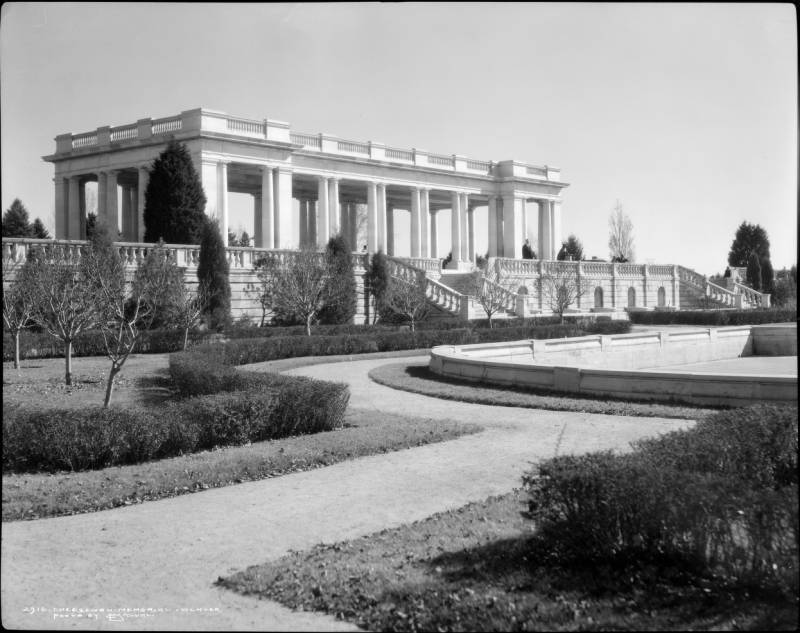 In the picture below you can see how they graded the lawn, took out some trees and planted flower beds. There is talk of digging up all of this and going back to the previous style, I think that's a good idea.
From here we walked into the back part of the gardens, walked past some tree species that Rob pointed out were good for planting and listened to the xeriscape gardener talk about his area. We made one last stop to the small rooftop garden, then it was time to leave.
We had lunch at Chick-Fil-A, then headed home to put chicken soup in the crockpot and make cinnamon rolls for youth group. James and I went out to Phil's for a drink, but it was late and eating places were closed – Waffle House to the rescue!